Splitgate: Arena Warfare Wiki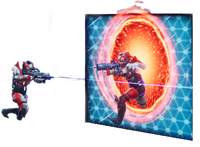 Welcome to the Splitgate: Arena Warfare Wiki
Welcome to the Splitgate: Arena Warfare Wiki
About Splitgate: Arena Warfare
Splitgate: Arena Warfare
is a fast-paced Sci-Fi multiplayer first-person-shooter that uses player-controlled portals to create a new dimension of arena combat. Released on May 24th, 2019 for PC as a Free To Play title, IGN described Splitgate: Arena Warfare as "Halo meets Portal."
Wiki Community
We are currently maintaining 723 pages (133 articles)!
Recent changes | New pages | Missing pages
See how you can help contribute to Splitgate: Arena Warfare Wiki! Remember to maintain a standard for grammar and punctuation in your contributions, please.
Register an account to keep track of your contributions.